The mission of Muncie/Delaware Robotics and our PhyXTGears 1720 Team is to provide a unique hands-on learning opportunity for Delaware County (and surrounding counties) students to learn science technology, engineering, art, and math (STEAM) skills. Through the use of problem-solving, teamwork, time management, project development and management, students cultivate the interest, understand, and skills in STEAM - while learning teamwork and gracious professionalism.
Our team is a 501(c)3 organization, thus all donations are tax-deductible.
Why Sponsor?
In 2017 Team 1720 had great success, on and off the field. Our Team participated in 8 competitions culminating in a 38th place world ranking out of 3000 teams. Our eyes have been opened to the opportunities that our students have through the FIRST programs. We are committed to passing this vision along to the students in
East Central Indiana
.
In order to have a culture of excellence, PhyXTGears is looking to build a sustaining relationship between our organization and community partners. For us, the robot is a vehicle toward building character through challenging the mind, working as a team, brainstorming, problem-solving, presenting and selling ideas, and collaborating toward a working solution. It is the ultimate hands-on STEAM experience.
How You Can Help
There are many ways you can help support our team. From monetary donations to just spreading the word about our team--- we appreciate your support.
Sponsorship Levels:
$250 or less - Thank you card with team photo.
$500 - Above benefits and name listed on team website.
$1,000 - Above benefits and listed on team website with your logo and your logo on that year's robot.
$2,000 - Above benefits and your logo on team trailer for one year.
$5,000 - Above benefits and your logo in team video and social media mentions.
$10,000+ - Above benefits and your logo on our team banner, which is shown at all team events. Also, you will be recognized as a major sponsor in all media communication.
If you are interested in partnering with us at any of these levels, please fill out the following form and mail it to:
FRC Team 1720, The PhyXTGears
PO Box 218
Muncie, IN 47308-0218
Print out the Corporate Sponsor Form
You may include a check or submit payment
through this link to our PayPal account.
Friends and Family Support
Any donation will make a difference. If you would like to donate on behalf of a student, please fill out the Friends and Family Sponsor Form. You may include a check or donate online via the Paypal button below. Please leave your student contact's name in the comments/other box when donating online.
Friends and Family Letter
Friends and Family Sponsor Forms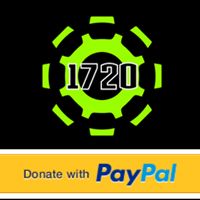 Our Current 2017 Needs: (We Still Need You!)
Letter from our Team President
Mentors, Sponsors and Students
-- printable flyer
Season 2015 Special Projects List
-- our current special projects lists
Corporate Sign Up Sheet
--- Ready to donate?
Print this form. <<<<<<< Checks can be made out to Muncie/ Delaware Robotics
Friends and Family Letter
Friends and Family Sponsor Forms
We need mentors!
- mechanical/build mentors
- animation/videographer mentor
- programming/electrical/on-robot visual displays (bling) mentors
- grants coordinator
Thank you so much for your support!
We are always looking for more sponsors to be a part of our team. If you are interested in sponsoring Team 1720 (the only FIRST Robotics Team in Muncie and Delaware County), please let us know at phyxtgears@gmail.com.
2015 Sponsors
We would like to give a huge thank you to
Meridian Services
. They have graciously allowed us to use their building as our robotics headquarters.
Our other sponsors include...
a grant from WFSM Foundation
a grant from Ball Brothers Foundation